The Pirates of Fossil Island
Make your own dinosaur pirate and solve math problems to win treasure on the high seas!
For ages 3 and up, our first game focuses on simple arithmetic and counting: addition, subtraction, multiplication, and division.
Don't worry if this sounds too complicated -- our Learning Engine™ starts easy, tracks progress, and customizes the game's difficulty for each player.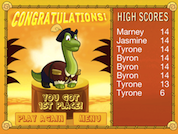 Individualized Learning

Our Learning Engine™ tracks your kids' progress and shows them exactly the problems they need to see. As they learn, the game grows with them!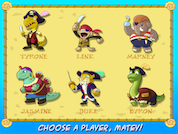 Dinosaur Pirates
Your kids will choose a character and level up with cool new items as they learn more math! With thousands of different combinations and new items coming out all the time, we'll keep your kids motivated and coming back for more.
Math Goes Multiplayer
Real math is about collaboration and sharing ideas. With our safe and anonymized multiplayer network, kids can solve math problems with friends and compete for high scores, right on their iPad!